Seems like just yesterday our red lipstick options were extremely limited, as everybody was wearing only RUBY WOO! Now over 10 Years Later, the options are endless!
So as fall arrived I began to swap out lipsticks and this is the time I start to wear more red bold lipstick colors. I honestly do not know why I do this, it's just been my natural routine that my reds go with more of my fall/winter looks. I love a bold red lip while wearing my darker color clothing. But please remember a bright red lip can also make an all-white fit just that more glam!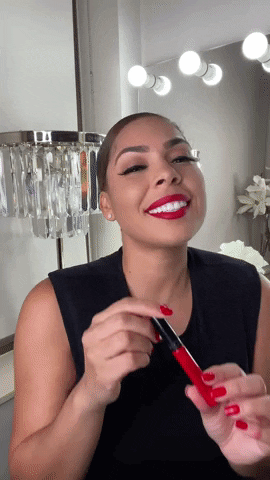 I asked friends & IG followers for their red lip recommendations, then I went out and tried them MYSELF!
I tried so many red lipstick colors over the past few days that these are my top 6 red lipsticks I would recommend to anyone. When selecting my top 6 I asked myself these questions:
Is it long lasting?
How vibrant is the Color?
Does it take a long time to dry?
What are the ingredients used?
How well does the product apply
Without Further Ado Here are my top 6 Red Lipsticks in order from my most favorite on down.
Lip Bar: Cosmo
Sephora: Always Red
Fenty: Uncensored
Kat Von D: Outlaw
Nars: Don't Stop
Mac: Ruby Woo
LETS GET MORE INTO DETAIL :
Lip Bar "Cosmo" : Felt like butter, went on smooth, and was bright from the moment I applied it. This was my top choice because its beautiful vibrant red color applied smoothly and lasted all day! Also, did I mention they are vegan, cruelty-free, and paraben free. Cost: $13 Retail: Target
Sephora "Always Red" : This liquid lipstick was not only unapologetically bright but it was long-lasting as well! "Always Red" was very affordable, did not spill over unto my teeth and gums when it was applied, and overall felt great during and after application.. Cost: $15 Retail: Sephora
Fenty "Uncensored" : Aesthetically please, the packaging alone gets an A+. From the teardrop wand that twists down into its unique triangular shape bottle. Fenty's cool applicator makes it easy to create precise lines and apply the product evenly. Now, this product does take a little time to dry, when applied I got it everywhere lol, my gums, my teeth, hands, etc. However, overall I would use this product again. The color is bright and bold and will work for if not all, many complexions. Cost: $25 Retail: Sephora, Ulta
Kat Von D "Outlaw" : I received several referrals for this particular color and although I loved this vegan & cruelty-free liquid lipstick, honey the messiness of applying this product was too much. At one point I thought pearly whites were permanently stained red. Now don't get me wrong if you are a pro at apply lipstick, then I would recommend this color to you. However, I am just an everyday woman and for me, it was too just hard to apply correctly. COLOR WAS HANDS DOWN MY FAVORITE but I had to put "Outlaw" a few notches down due to the color getting everywhere before drying. Cost: $21 Retail: Sephora, Ulta
Nars "Don't Stop" : This Liquid Lipstick is great for summer or fall. The color is undeniably one of the top 5 REDS OF ALL TIMES. It's a classic red that is warm and both creamy. My issue is still the same as others, very messy when applying but once dry the color was phenomenal! Cost: $26 Retail: Sephora, Ulta, Nordstrom, Macy's, Nieman Marcus
Mac "Ruby Woo" : Ruby Woo has been a fan favorite among celebs, world-renown make-up artists, and of course the everyday woman. The OG RED Lipstick was all the rave a decade ago however since the launch of so many brands emerging into the beauty world Ruby Woo now seems like a thing of the past. I still keep Ruby Woo in my makeup arsenal and every now and then I bring her out to play. This bright cherry red color with a matte finish will always be in style in my book. Now if they can just figure out how it can be applied without feeling like sandpaper, would be a consumer's dream! Cost: $19 Retail: MAC, Ulta, Macy's
–
The key to picking the perfect red is understanding the undertones of your skin as well as the undertones of the lipstick and how they work together. To identify your skin's undertones, simply check your wrist. If your veins appear more purple-ish, you have cool undertones for a red.
–